20 Electrical Holiday Safety Tips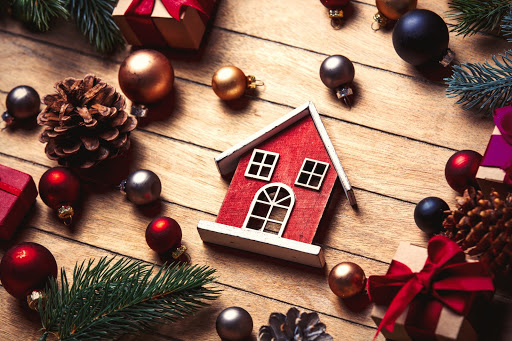 When you're decorating your home for the holidays, electrical safety usually isn't the first thing on your mind. But it's important to make sure your electrical decorations are safe for your home and don't pose a fire hazard. Broken wires, improper hanging methods, and overloading outlets can cause problems. According to the ESFI (Electrical Safety Foundation International) 25% of holiday fires are caused by decorations. That's about 860 home fires. Don't let your home be one of them. The good folks at Herrmann Services want to make sure your season stays merry, not scary, so we've made a list and we'd like you to check it twice. Follow these easy safety tips to keep your home and loved ones safe.
Hanging Decorations and Strands of Lights
The holidays are hectic, but don't use that as an excuse to cut corners when decorating. Follow these rules and be safe:
Inspect Electrical Decorations for Damage


Cracked or damaged sockets, loose or bare wires, and loose connections can cause a serious shock or start a fire. Take the time to inspect it all.
Never Connect More Than Three Strands of Incandescent Lights


More than three strands may not only blow a fuse but can also cause a fire.

You can connect eight to ten times more mini LED light strings together end to end while only using one

electrical outlet.

With traditional Christmas mini lights, you can only connect four to five sets, end to end. LED mini light strings allow you to connect 40 to 50 together, depending on the light count.
TIP: You may want to update your lights to LEDs. They produce considerably less heat and use less electricity too.
Watch Bulb Placement


Make sure bulbs don't touch supply cords, wires, cloth, paper, or any material that's not part of the light string.

Use the Proper Clips for Hanging Decorations


Staples and nails can damage electrical cords and cause shorts.

Look for Certification Labels


Decorations not bearing a label from an independent testing laboratory have not been tested for safety and could be hazardous. Look for Underwriters Laboratories (UL), Canadian Standards Association (CSA), or Intertek (ETL). If you don't see the label, don't assume it's safe to use.

Only Use Outdoor Rated Extension Cord Outside


If using outside, make sure to check that it is labeled for outdoor use.

Power Lines Can Be Fatal


If you are using a ladder to put up decorations, or when you're hanging lights or decorations on trees outside, watch for overhead power lines. Know where they are

before

you start.

Always Turn Off Decorations When Going to Bed or Leaving Home


According to the NFPA (National Fire Protection Association), half of all home fire deaths occur between the hours of 11 pm and 7 am. Don't be a statistic.
Outlet Safety
We know it can be difficult, but try not to plug too many holiday decorations into your outlets. Also, make sure your outlets are GFCI in the kitchen, bathrooms, and outside.
Inspect Outlets before Using


If the outlet shows any signs of damage, such as black lines where the plug enters or sparks when you plug something in, don't use that outlet and have a professional electrician inspect it.

Do Not Overload Electrical Outlets


Avoid plugging too many lights and decorations into an outlet. Overloaded circuits can overheat and start a fire. Read the package instructions, and never exceed the recommended wattage.
TIP: Circuits that frequently trip can indicate too many items are connected to the circuit.
Use GFCI (Ground Fault Circuit Interrupter) Outlets Outdoors


A

GFCI outlet is designed to cut off the electricity when it senses an imbalance between the outgoing and incoming current. It keeps people from being electrocuted. They are recommended for outlets near water including outdoors and in bathrooms and kitchens. You can tell if yours are GFCI outlets by looking for the reset button (usually red) on the outlet.

Use Battery-Operated Candles


Open flame

candles start almost half of home decoration fires according to the NFPA. Battery operated candles have no wires to be plugged in or hazardous open flames.
Extension Cord Safety Tips (Betcha You're Guilty of Violating a Few)
About 3,300 residential fires originate in extension cords each year, killing 50 people and injuring about 270 others. In addition, 4,000 people a year are treated in emergency rooms for injuries associated with extension cords. Not all injuries due to extension cords are electrical. Half of them involve fractures, lacerations, contusions, or sprains as a result of people tripping over the cords. Follow these rules for using extension cords.
Inspect the Cord


Look for cracks, loose connections at the ends, or damaged coverings and loose or bare wires.

Throw away any cords that are in poor condition.

Check for Indoor/Outdoor Rating


If using outside, make sure the extension cord is labeled for outdoor use.

Use GFCI-Protected Outlets


Plug outdoor electrical decorations into GFCI-protected outlets to prevent shock.

Protect Cords from Damage


To avoid shock or fire hazards, cords should never be smashed by furniture, forced into small spaces such as doors and windows where they can be pinched, placed under rugs, located near heat sources, or attached by nails or staples.

Watch Out for Water


Keep outdoor connections above-ground and out of puddles.

Don't Stretch Extension Cords over Walkways


This can cause a tripping hazard. It's best to run extension cords alongside walkways when possible.
Other Common Hazards
Space Heaters


Space heaters result in far more fires than central furnaces.

Never leave one unattended or around pets or children without supervision.

Make sure it is not near carpets, rugs, drapery, bedding or anything else flammable.

Carbon Monoxide


This is one of the most preventable hazards. Install a CO detector in your home today. They are inexpensive and plug right into a wall outlet. It can save your life!
Always have a working fire extinguisher on hand, and know how to operate it. We hope these tips will keep you safe this holiday season. If you need any electrical help, just call us at Herrmann Services at (513) 737-8423 or

contact us online
.