Best Emergency Plumber in Cincinnati, OH
Local Plumbing Emergency? Clogged pipes? Dripping or leaky faucets? Need Cincinnati plumbing repair or a new toilet or appliance installed? Call our 24/7 plumbers at (513) 737-8423 today!
No matter what the plumbing need, whether installation, emergency services, or plumbing repair, Herrmann Services is the name Cincinnati residents have trusted since 1968.
We clean up plumbing-related messes and fix the problem at the source, allowing you to get back to your day with a minimum of stress, worry, and anxiety. All it takes is one call, and you'll breathe easier knowing your needs are covered, even when things go awry.
We know that leaky pipes and water heaters, backed-up drains, and overflowing toilets aren't just inconveniences; they can lead to serious damage to your home if not dealt with promptly and accurately.
Our Cincinnati plumbers focus on making sure the problem is fixed the first time, cutting down on future visits, and avoiding costly damage to your home or office. That's why our company is properly bonded, licensed, and insured in the City of Cincinnati, and by the State of Ohio.
We've also received OSHA Construction, Safety, and Health certifications, along with numerous certifications from the State of Ohio and the State of Kentucky.
Our Plumbing & Drain Cleaning Services include:
Emergency Sump Pump Repair and Installation
Herrmann Services can repair or replace the sump pump in your Cincinnati area home. We can also install sump pump battery backup systems to make sure your sump pump will run in case of a power outage. Click for more information in sump pump repairs and installations in the Cincinnati, OH area.
Plumbing issues can be quite complicated or even disastrous. Unfortunately, most households have to contend with them from time to time. Over the last few decades, Herrmann Services has helped thousands of Cincinnati residents to overcome such challenges.
We are a dynamic company that handles all kinds of plumbing solutions. Our job is to ensure homeowners in Cincinnati enjoy a clean flow of fresh water and an efficient drainage system. Here is a breakdown of the expertise our plumbers provide.
Water & Sewer Line Repair & Replacement
Our Cincinnati plumbers do more than just clear out your drains; we can repair or replace water and sewer lines. Our decades of local experience in Cincinnati sewer line replacement helps make sure your sewer and water lines are installed and replaced correctly.
Sewer lines block and accumulate all types of dirt and filth over time. Sometimes the issues are more fundamental and emanate from the building's structure and design. The good news is that we have accrued ample experience in fixing even the most complex hitches affecting water and sewer lines. These may include rising water levels in the toilet and clogged drainage systems.
Gone are the days when diagnosing sewer line troubles was a complicated task. We no longer have to rely on guesswork. Our plumbers use cameras to inspect your sewer line. As a result, they can pinpoint the problem areas within the shortest time possible. With this approach, we can show our clients the degree of blockage affecting the sewer line and offer practical solutions.
Toilet, Faucet and Fixture Repair and Installation

For over 50+ years, Herrmann Services has been installing and repairing residential and commercial toilets, fixtures, and faucets in the Cincinnati area. We use the highest quality parts available to ensure proper performance and reliability. We can also install new sinks in your bathroom, kitchen, or laundry room.
Business owners who run high-traffic enterprises are likely to experience difficulties with their toilets, faucets, and other fixtures. These types of installations can disrupt your service delivery. At Herrmann Services, we are quick to respond to them.
Occasionally, a clogged toilet indicates other underlying issues with your drainage system. Our plumbers understand this all too well. They are keen to get to the bottom of the matter and restore proper function. If the problem calls for toilet replacement, we will not hesitate to let you know.
Our team works fast to avoid inconveniencing your business operations. Besides repair services, we can also advise homeowners on the types of plumbing installations that will last a long time.
Tankless Water Heater Service and Installation
When it comes to hot water, you want to avoid any malfunctioning that could undermine its supply. However, tankless water heaters are delicate appliances that can let you down when you least expect them. We pride ourselves on rectifying household and business difficulties with these devices.
There are situations where clients barely get hot water or the temperature becomes inconsistent. Such malfunctions will not resolve themselves. For this reason, you may need qualified plumbers to fix them. Our experts have decades of experience under their belt. Regardless of your issues with your tankless water heater, you can rest assured that we have seen it before.
It is normal for your tankless water heater to produce certain noises. However, you need to call an expert if they become unusual and alarming. For example, clanking and loud pops are signs of a bigger problem.
Most homeowners wait too long before calling a plumber to inspect their tankless water heater. Consequently, a minor issue becomes more complex and expensive to repair. It would be ideal to consult Herrmann Services plumbers, the best plumbing Cincinnati provider before the situation goes out of control.
Herrmann Services offers expert repair and installation of residential and commercial size water heaters, including tankless water heaters. Inquire about our annual inspections included with our Family Service Plans to give your home or business the utmost reliability. Click here for more information on water heater repair and installs in Cincinnati.
Tankless Water Heater Service and Installation
You will never run out of hot water with a tankless water heater. Once you turn on the faucet, you will have continuous hot water until you turn it off.
We can install and maintain tankless water heaters. For more information, click here for tankless water heater installs in Cincinnati.
Garbage Disposal Repair and Installation
We offer In-Sink-erator and Whirlaway garbage disposers with some of the best warranties around town including 5-year, 10-year, and lifetime warranty models.
Call today, and one of our plumbers in Cincinnati will recommend the best garbage disposal to install in your home.
Garbage disposers aren't necessary; however, they're helpful when food gets thrown away. Some people might misuse them and think they can throw anything into the garbage disposal, which includes grease. Grease can be harmful to the plumbing system if not treated properly.
If you have a garbage disposal, keep it clean by running hot water through it when you're done using it.
At Herrmann Services, our team of plumbers is highly skilled in disposal repair, replacement, and installation. We are always ready to tackle any garbage disposal issue.
So if you are facing any issues with your garbage disposals, we recommend contacting our team. The food scraps from your kitchen can block and clog them. But the tricky part lies in identifying the specific area that could be causing this issue.
Local Drain Cleaning in Cincinnati, Ohio
Herrmann Services utilizes the most sophisticated equipment available to ensure proper and safe drain cleaning for your home or business. Our plumbers use video camera inspections to accurately locate where your problems may be, without costly digging or damage to the existing system. Video cameras are used to identify damage or obstructions that inhibit proper flow. The cameras also verify if the obstructions have been properly removed. Video camera inspections can pinpoint problems like these:
Broken, cracked or collapsed pipe – damaged pipes requiring repair/replacement.
Blockage – grease buildup or an object is restricting proper flow of the line.
Corrosion – the pipe has deteriorated or broke, causing sections to collapse.
Leaking joints – the seals between pipes have broken, allowing water to escape.
Root infiltration – tree roots have damaged the sewer line, preventing normal cleaning.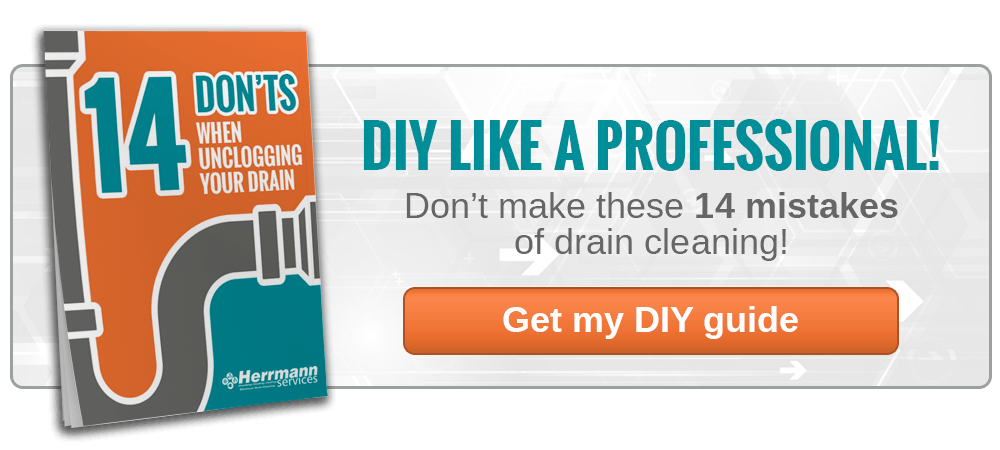 Leaking Pipes, Faucets, Tubs and Toilets
Whether it is a pipe leak, faucet leak, tub leak, or toilet leak we can handle anything you throw at us. Our technicians are experts at finding the source of the leak and fixing it right the first time.
ProSystems Water Treatment
We also install the ProSystems water softener and treatment systems. We know that Cincinnati has extremely hard water, and these systems can help soften that water, which can help extend the life of your pipes and appliances. In addition, a water treatment system can remove any contaminants in your water and make it healthier to drink.
For those in the Cincinnati metro area, we also service:
Sump Pumps, Sewage Ejector Pumps, Aerator Pumps, and other Pumps
Septic System Service, Repairs, and Replacements
Appliance Hookup
Gas Line Leaks and Repairs
Gas Fireplaces and Pool Heaters
Tub/Shower Repairs
Water Service Line Repairs
Certified Backflow Testing and Service
Sewer Video Inspections
Preventative Maintenance Programs
Water Softener Systems
Dental Utilities
Limited Area Sprinklers
Water Fountain Repairs
Water filter Systems
Are you experiencing any of these issues? If so, you need a plumbing service near your home or business premises. More importantly, you need a team that can respond quickly and has all the equipment necessary to resolve any plumbing problem.
Herrmann Services is a homegrown company that you can trust. We always have a team of professional plumbers on standby. Call us today, and we will dispatch our experts in the shortest time possible.
Herrmann Services In Cincinnati OH
Address: 8256 Clara Ave, Cincinnati, OH 45239
Phone Number: 513-737-8423
Hours: Open 24 Hours A Day, 7 Days A Week!
Our Other Services:
Call Herrmann Services at 513-737-8423 for all of your Heating, Cooling, Electrical, & Plumbing needs in the Cincinnati area.
No matter what the plumbing need, whether installation, emergency services, or plumbing repair, Herrmann Services is the name Cincinnati residents have trusted since 1968.
We clean up plumbing-related messes and fix the problem at the source, allowing you to get back to your day with a minimum of stress, worry, and anxiety. All it takes is one call, and you'll breathe easier knowing your needs are covered, even when things go awry.
We know that leaky pipes and water heaters, backed-up drains, and overflowing toilets aren't just inconveniences; they can lead to serious damage to your home if not dealt with promptly and accurately.",