Newport's Most Trusted Electric Professionals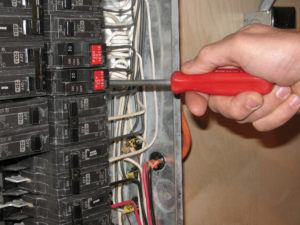 Herrmann Services is your professional and dependable Newport electrician serving the entire Newport, OH metro area. An electrical project isn't something you want to leave to amateurs. After all, the safety of your family and home is at risk.
Electrical items that are in need of repair can turn into a dangerous situation if not attended to. The professional electricians at Herrmann Services will see to it that your electrical job is completed properly, on time, and up to code.
From replacing outlets to rewiring your entire home or building, the experts at Herrmann Services are prepared to bring your building up to date.
Many of today's homes in Newport have outdated wiring, including cloth or aluminum wiring. Older homes weren't wired to handle today's array of electrical devices and electronics. It's easy to overload the system and causes fuses to blow.
Electrical codes have changed over the years as well so homes with older panel boxes may be unsafe. Plus, older wiring is not as fire retardant and the NEC (National Electric Code) did not have some of the safety requirements back then as we have today.
Don't wait until something bad happens. Call a licensed, professional Newport electrician from Herrmann Services to perform a safety inspection today!
We also offer family plans that include regular inspections of your electrical system. Click here for more details.
Electrical Services Provided by Our Licensed Electricians in Newport
EMERGENCY ELECTRICAL REPAIRS
Our emergency electrical repairs include troubleshooting power supply and safety issues or rectifying code violations.
SERVICE PANEL REPAIRS & UPGRADES
Our updates and repairs for service panels include upgrades to distribution panels, capacity upgrades for new equipment and fuse-box to circuit breaker upgrades. A lot of homes in the Newport area have outdated breaker boxes, and it's best to replace them before they become a safety issue.
REWIRING
We provide upgrades to residential and commercial wiring, including capacity and safety upgrades, and cloth wiring replacement.
KITCHEN, BATHROOM AND WHOLE-HOUSE LIGHTING
All lighting installations, including recessed and LED lighting, and lighting design are handled by our technicians. We can install any lighting system for your kitchen, bathroom, master bedroom, or any part of your home. Our electricians can install pendant lights, can lights, chandeliers, and all other types of lighting. We also install under-counter lighting for your kitchen.
OUTDOOR and LANDSCAPE LIGHTING
We install all types of outdoor lighting including outdoor commercial lighting, parking lots, and landscape lighting in the Newport, OH area. We can show you different options for installing lighting around your home or business.
REMODELS
The electricians at Herrmann Services provide new electrical wiring and supply for remodels and change of use refits for shops and offices. We are licensed electricians, so we make sure all electrical installations are done to national and local building codes.
NEW LIGHT SWITCHES AND OUTLETS

We replace old light switches and outlets and can add power outlets to new locations including garages and outdoors. This is especially important in kitchen and bathroom remodels, where GFCI outlets are required by building codes.
HOME AUTOMATION
We install home automation systems including wiring for lighting and shading automation. We can install systems that can control most aspects of your home.
STANDBY AND BACKUP GENERATORS
We install backup generators for your Newport home or office. With the unpredictable weather in this area, a backup generator can ensure you have heat in the winter and air conditioning in the summer. Plus, the backup electrical generator can power your entire home during a storm and can run for weeks until power is restored.
WHOLE HOUSE SURGE PROTECTION
Having a whole house surge protection system protects your electronic equipment from damaging power surges.
SIGN LIGHTING
Commercial sign lighting installations and repairs is another commercial electrical service we provide for businesses in Newport.
HOME THEATER INSTALLATIONS
If you are wanting to overhaul your sound system, or add surround sound for the first time but don't want to deal with the wiring, we can take care of the whole project. This includes wiring cable TV, surround sound equipment and mounting flat screen TVs.
TELEPHONE and DATA WIRING
State-of-the-art CAT6 and CAT7 ethernet wiring, new phone locations and new installations.
TRADE SHOW ELECTRICS
If you need safe power for lighting, displays, or general electrical for a sales booth or for limited events, call us today for a quote.
CEILING AND ATTIC FANS
Ceiling fans and attic fans can be a cost-effective way to cool your home. So if you need your attic fan repaired or a new ceiling fan, have us come out and take a look.
POOL AND HOT TUB HOOKUPS
Most homes do not have adequate power to hook up a hot tub or swimming pool. Herrmann Services can make sure you have a safe connection for that spa tub.
BASEBOARD HEATERS
We install electric baseboard heating for basements, four season rooms, or extra heating in a cold room.
Herrmann Services In Newport OH
Address: 8256 Clara Ave, Cincinnati, OH 45239
Phone Number: 513-737-8423
Hours: Open 24 Hours A Day, 7 Days A Week!
Our Other Services:
Call Herrmann Services at 513-737-8423 for all of your Heating, Cooling, Electrical, & Plumbing needs in the Newport area.